Curious about birth doula care options in the New York City metro area?  Hello!  I am very excited to help you with your birth!  The best way to get started is to reach out to me via email or phone to get your initial questions answered.  From there we can set up a meeting to get better acquainted.  At this initial free consultation, held at a local coffee shop, I can answer questions you may have about what I do as a birth doula.  It's also a great chance for me to learn more about you and what you desire from your birth experience.
Once you hire Janet as your doula:
BEFORE LABOR:   I like to meet with you in your home, about one month before your due date and after you have taken your childbirth education class.  (You can choose to do a special package of birth doula care and discounted childbirth class with me if you like.) At this meeting we will explore together your plans for childbirth and how I can best support you. I also work with your partner to become the best support person ever so that you will be surrounded by love and care. This meeting usually takes 1-½ hours and I will ask you questions and take careful notes that I will then streamline and email to you for additional comments.  By the end of this discussion we should all be on the same page concerning your birth plan and how I will be of help to you.
DURING LABOR: Once you are in labor, you will give me a call to check in (even at 3am I am looking forward to your call)! Many people feel comfortable laboring at home during the early phase and then ask me to join them and help when labor becomes more active. I am 100% on call for your birth from week 38 – 42. I am available to provide professional labor support in your home and/or at the hospital throughout your entire labor. My role includes emotional support for you and your partner, strategies for coping with labor contractions and progression, plus I can supply you with up-to-date information you will need for informed decision making.
AFTER LABOR:   Once you have birthed your baby, I will help you establish breastfeeding.  I can take pictures and get you all some food as well. Once I see that everyone is nicely settled, I will slip out so the 3 of you can enjoy postpartum time together.  In the days following the birth, I will reach out to you to see how things are going and offer help if needed.  A week later I will call to set up our postpartum visit.  We will discuss the birth, go over any resources you may need and admire your sweet, beautiful baby!
You can do it.

  I can help.
My doula care in a nutshell: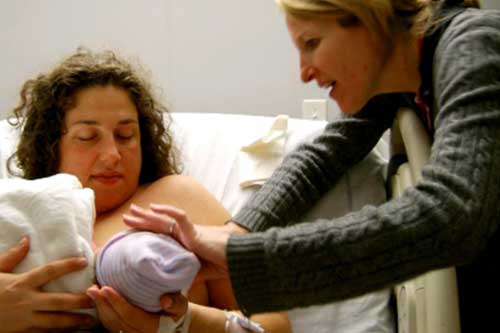 "I know that I would not have been able to labor at home for as long as we did, feeling confident in my health and well being there, if we had not had Janet reassuring us through the entire process. Janet has a nonjudgmental attitude and is honestly interested in listening and helping you have the birth that YOU want to have."
- Alexis
"My husband and I still speak very fondly of her as one of the best parts of our birth experience. When I was exhausted and not progressing, she helped to get me admitted quickly, saving many unnecessary hours of pain and worry; she skillfully worked with the doctors and nurses to make the birth as low-stress and low-intervention as possible; and served as a companion and reassurance to my excited (but nervous) husband, making our birth experience an incredibly positive one."
- RACHEL
***Online virtual birth doula support is also available!